Laughter Yoga with Nuns in the Philippines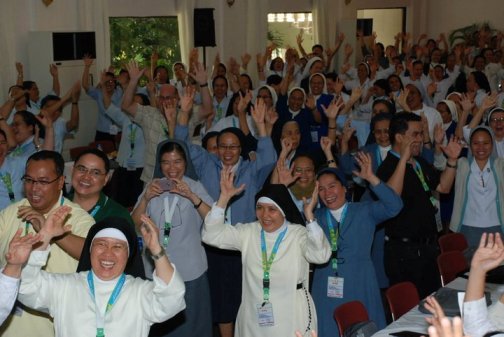 Laughter Yoga is fast sweeping the World. Laughter and Laughter Yoga is Universal and Non Religious. Laughter Yoga is practiced as a form of exercise; therefore, it can be practiced by nearly anyone. However, many people who have added Laughter Yoga to their daily lives, have found that it connects them to their spirituality and religion on a deep level. Here is a story that is reported from the Philippines. Paolo Martin Trinidad, Certified Laughter Yoga Teacher, recently presented Laughter Yoga to the Philippines Association of Religious Treasurers. There were 306 participants which included a majority of nuns. Please Read more of the Story Below. Laughter Yoga International would love to hear from you. Please submit your Laughter Yoga applications, stories, photos and videos from around the World.
Paolo Martin Trinidad, Philippines: PHILIPPINES ASSOCIATION OF RELIGIOUS TREASURERS was held in Cebu City on November 11,2010. It is a national event which was attended exclusively by priests and nuns who are religious treasurers of their respective congregations.There were 306 participants.There were nuns from 16 different congregations. There was Alis one priest in their midst who is now helping to promote Pinoy Laughter Yoga in the different priest communities. Now, many are inviting me to their respective congregations for a Certified Laughter Yoga Leader's Training. Laughter Yoga caught their attention from an invitation from a nun who participated in the activity. Now,the Filipinos are very much into Pinoy Laughter Yoga and it is really phenomenal as one media personality said. Pinoy Laughter Yoga has made Laughter Yoga accessible to the masses and also famous in the Philippines. It is really phenomenal because it just started on June 12 of this year and now it has traveled all over the country and it is also a international news and has been covered by Reuters,CNN News and Fox News. Now,the Religious Congregations are becoming aware of the great contribution that Laughter Yoga can do for them.There is much demand from them to become Certified Laughter Yoga Leaders. They are very much aware that it can prevent dementia and it is very timely for them since many of their members are now in their twilight years already. Just to add that PINOY LAUGHTER YOGA was responsible for the first Certified Laughter Yoga Leader's Training in the country. Even before Dr.Madan Kataria conducted his training in the Philippines last month, PINOY LAUGHTER YOGA had already produced 85 Certified Laughter Yoga Leaders already and they all are grateful to him as their guru!!!
Laughter Yoga with Nuns in the Philippines Laughter Yoga with Nuns in the Philippines
The nuns in the most recent photos are actually from the north part of the Philippines.They gathered for a spiritual activity and at the same time they had a Pinoy Laughter Yoga Session in Vigan,Ilocos Sur.They needed a unique Stress and Anger Management Workshop and the Laughter Yoga module was focused on that. A mmajority of the participants are senior citizens already so our activity was focused on less movements and they were seated most of the time.They really appreciated laughter yoga and many of them will be undergoing the Certified Laughter Yoga Leaders Training which i will be conducted next month.
Laughter Yoga with Nuns in the Philippines Laughter Yoga with Nuns in the Philippines
Laughter Yoga is a great breakthrough for the religious people in the Philippines.and many of them are requesting for trainings from Pinoy Laughter Yoga since now they are very much aware of the great benefits that they will get from it. My module for them is so unique because it focuses on the spiritual benefits from Laughter Yoga.
To Be in Touch with Pinoy Laughter Yoga, Contact Paolo at p_23_mlt@yahoo.com
To stay up to date about Laughter Yoga International, Go to www.facebook.com/laughteryoga and become a fan by pressing "LIKE."