Laughter Yoga With Engineers In Beirut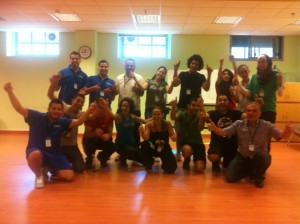 An incredible group of engineers from Lebanon, Egypt, Jordan and Palestine, Japan and Cyprus gathered for a great laughter session that left them feeling relaxed and energized throughout the day. The nature of their work at times leads to excessive pressure and tension thereby risking their health. Laughter Yoga is a great tool that helps to reduce physical, mental and emotional stress simultaneously, thereby ensuring a complete body-mind wellness.
It has already been proved that incorporating laughter on a regular basis in companies, factories, business houses etc, not only helps to increase productivity and profitability; it also improves inter-personal relationships at all levels in an organization. It develops a more positive outlook and a co-operative attitude towards one's colleagues and subordinates which in turn improves the work environment, and overall performance of an organization.
Therefore, specialized and skilled people like engineers, technicians, production- in –charge, etc must make it a point to add laughter into their daily regime as it is the easiest and the most effective method to bring more laughter and joy into their professional and personal lives.