Laughter Yoga Tourism Concept Begins From Israel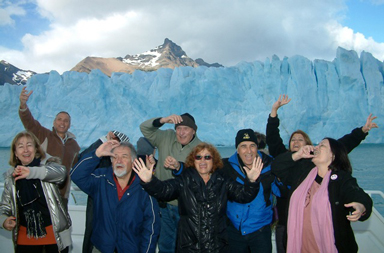 Noga Ilan: I would like to congratulate you on the 15th Anniversary of Laughter Yoga which really changed my life as a tourist guide. Ever since I joined this amazing global movement last year, I feel I am not alone in the world any more. With so many Laughter Yoga missionaries the world cannot be a place of desperation.
After being certified as a Laughter teacher, I introduced it into my profession. Now, I am not just a simple tourist guide any more; after a detailed explanation about Laughter Yoga, I offer my tourists to join a temporary traveling Laughter Yoga club. The results are amazing! People respond very positively; in fact, more and more tourist places all over the world are now echoing with the sounds of ho ho ha ha ha and very good very good, yeah!!!
Laughter really can make a change, even fake laughter counts. I am using this great advice in all my tours. It helps to set a routine of happy mood. More so, in moments of stress or conflict, laughter is an appeasing handy solution.
I wish you could see those terribly serious (at the beginning) passengers applying the 'laughter-sun-blocker' every morning on their faces. Imagine grumbling elders falling into sudden childish laughter after drinking 'Laughter-milkshake' when reaching the peak of the sun pyramid on a Mexican sunny day. Picture another group drinking a delicious 'Laughter punch' to relax their soul in front of the glaciers of Patagonia. This Laughter tourism is here to stay. Thanks for this great gift you gave me and the world.
Noga can be contacted at: noga Ilan < nog1@hotmail.com>
Laughter Yoga Tourism Concept In Our University
I have been dreaming of having Laughter Yoga tourism as part of our programs in the university in Bangalore. People from all over the world are fascinated by the India. They want to explore Indian culture, how people live and its spiritual values. The objective of this novel idea of Laughter Tourism is to organize group sight seeing tours which will emphasize on 'fun as you learn'.
The tourist groups will spend a few days in the university to know the basics of Laughter Yoga before proceeding to other cities. They will be led by certified laughter leaders as their tourist guides to discover India. We will organize tours to villages in different states to give people an exhilarating experience of diversity in this country. They can enjoy the hospitality and delectable Indian cuisine from the north to south and east to west. Not just India, laughter professionals from all over the world can organize Laughter tours and help people understand Laughter Yoga even as they explore different places of interest.
Dr. K