Laughter Yoga - The Best Gift From Within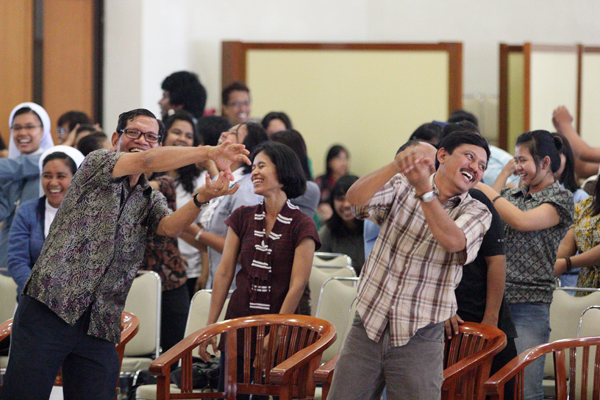 Laughter is a universal language and it is within all of us. Sadly, we sometimes keep it reserved, and find it very hard to laugh. Children, on the other hand, have that natural knack, natural ability to say funny things and do funny things. But as we grow, we go through a socialization process, which kind of takes that gift out of us. This is where Laughter Yoga really helps. It has the power to generate childlike playfulness and bring out the inner joy, which provides more laughter and happiness from within.
Laughter Yoga instructor and "Laughter ambassador" Bharata Wingham recently organized a session at Yogaville in Buckingham County for people training to be certified Laughter Yoga leaders.This group is working to bring out the laughter from within to better themselves and others. "Life can be very tough, so why not live it laughing?" said Sam Desai, a participant.
With laughing yoga, you don't have to wait. You can just start laughing at any time you want. We feel safe when we laugh with each other, so it's a way to connect on a social level, and it's also a personal yoga because it takes us to connect with what I say is our true nature," said Wingham.
Desai a psychotherapist who works with children said, "I'm a very serious person normally, so I also wanted to do it for me to bring out my childlike playfulness and influence others to do the same," she said. "Laughter is an amazing, amazing gift that we all have," she said. "We all have it within us, and we forget to manifest it."
Article source: http://www.newsplex.com/home/headlines/Laughing-Yoga-ROFL-for-Better-Health-230912471.html?ref=471
Photo Courtesy: Chris Stover