Laughter Yoga Sisters ha ha !!!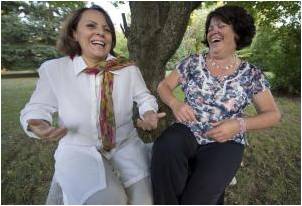 There's nothing like a good laugh. Study after study has shown that laughter is good medicine - and to that end, sisters Danielle and Jackie Geoffroy are back for a third year, teaching Laughter Yoga in St. Lazare. They conduct inspiring and good humored laughter sessions to help people bring more laughter and joy into their lives.
"We do it for peace and health," said Danielle, adding that the classes, which begin Sept. 12, are aimed at adults, although children ages 8 to 14, with adults are welcome on the first Wednesday of every month.
Laughter Yoga is a unique concept in which people laugh for no particular reason - no jokes, no pratfalls. "It is based on scientific research which demonstrates that our body does not see any difference between a simulated laugh and a natural one because we release the same energy," said Danielle. "We get the same benefits, physically and psychologically - releases endorphins and it boosts our immune systems, "she adds.
Collette De Bellefeuille says she can't bring herself to skip a class. "I've been going every week for two years and I can't miss it. It just brings me so much," she said, adding that not only does she communicate more easily; she doesn't take life so seriously and even sleeps more soundly. "Now, I laugh more easily - and it's from the heart, from the soul," she said.
Geoffroy said sessions usually last between 45 minutes and an hour and are based of exercises and yoga breathing techniques. Although the classes are given only in French, Geoffroy said students come from all language backgrounds. "It's very easy to understand and there is always someone to help," she said. "Laughter has no boundaries."
Classes begin Sept. 12 at 7 p.m. All that's needed besides a willingness to laugh is an exercise mat or blanket and a small bottle of water.
For more information, call 450-458-0057 FREE.