Laughter Yoga Rocks Sydney Arts Festival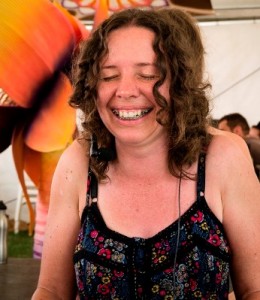 Kylie Willows, LY Master Trainer, Sydney: I was thrilled to be invited to the annual Peats Ridge Sustainable Arts and Music Festival to run Laughter Yoga for the fourth consecutive year. It was another wild success with nearly 10,000 people flocking to Glenworth Valley (about 1 hour north of Sydney, Australia) over three days to experience one of Australia's pre-eminent events.
The festival goers absolutely embraced and loved Laughter Yoga. Despite the fact that the workshops tent became so crowded that people could barely move, we didn't let that stop us from laughing for a full hour in each of the two days that I ran classes.
In addition to favourite laughs of mine like the "Hollywood Greeting" laugh and the "salute to fun", we did a range of festival-specific laughs that many of the participants could relate to. Because Peats Ridge is a 3 day camping festival, we laughed about: the facilities (cold showers, lack of loo paper); getting lost in the campsite and not being able to find your tent; tripping over your tent pole (and pretending that you didn't really trip); and doing crazy dancing to your favourite musical act. The crowd was incredible and each time I started clapping and chanting ho ho ha ha ha everyone would join me and then erupt into raucous applause and cheering for so long that I would struggle to get them to stop!
I've been proud to bring Laughter Yoga to so many open-minded and open-hearted festival goers over the years. I believe that Laughter Yoga is about getting in touch with your natural and healthy desire to laugh freely and to express joy. I decided to become a Laughter Yoga teacher after experiencing first hand Laughter Yoga's magical ability to allow laughter to flow freely, to release stress and to enable one to live in the moment. That was certainly the case at this event!