Laughter Yoga Rocks Again At European Rock Festival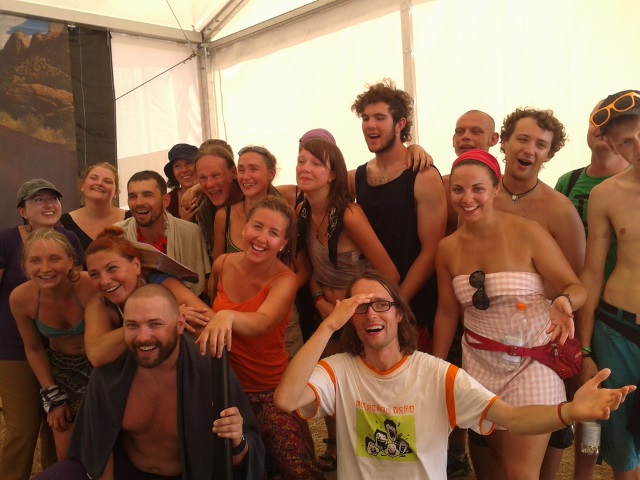 For the last 20 years the Woodstock rock music festival is organized in Poland gathering each year over 300,000 participants. It is a free of charge 4-days event organized by a charity foundation which aims at improving the quality of medical services in Poland and make medicine more humane. Several leading music bands get together for the festival which is enjoyed by all and sundry.
At this summer edition from 30th July to 2nd August, Piotr Bielski, a Certified Laughter Yoga Teacher from Poland with a group of Laughter Yoga teachers will run free Laughter Yoga sessions 4 times a day during the 4 days of the festival. At the end of the festival Piotr and Laughter Yoga community plan a big Laughter Yoga session for 500 people. The reason why Laughter Yoga is present at such big event is very simple. Laughter is a great social connector, when people can laugh together it makes it easier to socialize, to enjoy music together.
It is very important for me to show that we do not need drugs or alcohol to have fun," says Bielski. "Thanks to daily practice of Laughter Yoga I enjoy my life and great music so much that I am among the first ones to sing and dance". In the last year edition many young people participated in the Laughter Yoga session, some of them afterwards joined the Laughter Clubs and few even became LY leaders.
One of them is Magda Szwankowska from Poznan who says: "I have been seven times in the Woodstock festival but last year Laughter Yoga was more important experience for me than the concerts. The exercises were really great and I learned that the body does not see difference between fake and spontaneous laughter. I was so surprised that I felt so good afterwards so I decided to keep on with it and joined the leaders' course".
Her sister Monika, who accompanied Magda in Laughter Yoga session at the festival, has very positive memories: "It was really hot but all the participants kept on laughing and seemed so joyful. They were so open and friendly. It was the beginning of my adventure with Laughter Yoga and soon I joined the leader course and this easy and pleasant technique helps me to increase my mood no matter what and helps me professionally in my job as a teacher for children with special needs".
Kasia Jakobik from Warsaw says, "I just saw in the festival's crowd a red T-shirt with Laughter Yoga on it. I ran towards this person and stopped Piotr and asked where I can practice this. And after a while I was laughing in a tent full of joyful people. On coming back home I joined the Warsaw Laughter Club and after few months the leaders course. I love so much being with other people and laughing with them looking in their eyes with joy, courage and gratitude. And everything happened because of the t-shirt".
Laughter Yoga really opens up people so they enjoy the ridesharing experience even more. You are invited, let's rock, and let's laugh, hahaha!
More on the Woodstock festival in Poland:
http://en.wosp.org.pl/
More on Laughter Yoga at the festival in Polish:
http://www.joginsmiechu.pl
Contact information: info@joginsmiechu.pl
phone +48 607473322