Laughter Yoga in Sports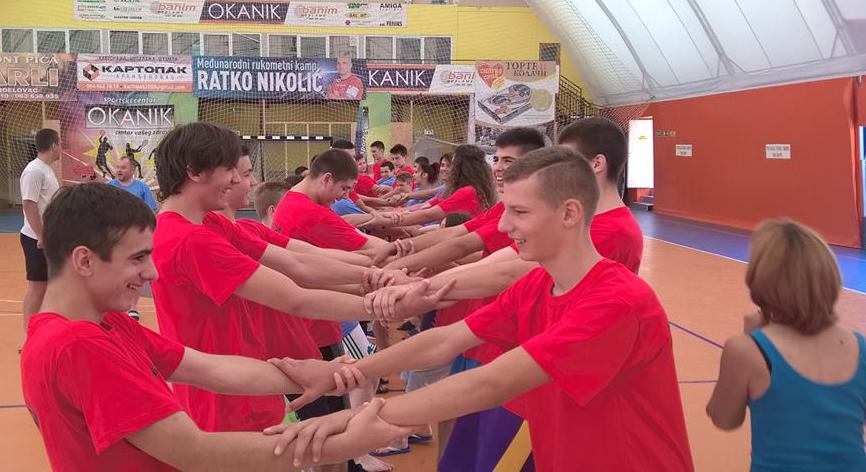 Laughter Yoga at the International Handball Camp Ratko Nikolic, Sports center Okanik, Mataruška banja-resort, Kraljevo, Serbia with Laughter Yoga Teacher Olivera Radovanovi? A day filled with laughter at the camp with the future national team handball representatives.
Laughter Yoga develops team spirit and builds good interpersonal relationships. It teaches us equality, sharing, giving, empathy, trust and self-confidence. Next, it creates a positive atmosphere, the spirit of togetherness - all prerequisites for a successful team both in sport and life. Laughter is a means of communication and signal that you're open to other people and a trustworthy person. Everyone loves people who laugh,everyone loves to laugh and everyone loves to laugh with others - laughter is a group action, and in Laughter Yoga we laugh with each other, not at each other which enhances the group because it strengthens the connection between people as laughter is the shortest distance between people - i.e. provides a sense of intimacy and creates an incredibly powerful group dynamic, outstanding feeling of comfort, confidence and cohesion.
A tool without which no team should be without, what every good and smart leader knows.
In addition all this greatly affects the physical health of each individual, which is also very important for a team.
Laughter yoga is as important in group as in individual sport because it develops a strong personality, the capacity of breath, a true inner strength and fitness workout. Improve circulation which means that the blood supply is much better, stimulates circulation of the lymphatic system, which in return helps in effectively eliminating toxins and other poisonous substances to leave the body leaving it sparkling clean - healthy.
And more.....
You can take a glimpse here: https://www.facebook.com/ratko.nikolic.kamp/videos/1014292525351320/
Special thanks to Miloš Perovi?, Trainer at Montenegro national handball team.
Love and Laughter,
Laughter Yoga Serbia