Laughter Yoga In Slovenia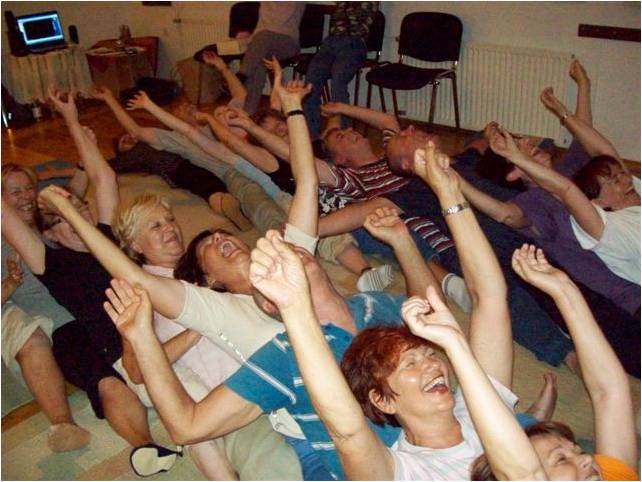 Simona Krebs, Certified Laughter Yoga Teacher: Inspired by the Laughter Yoga leader training I took in Interlaken, I immediately started the first free of charge Social Laughter Club in June 2010 in Maribor, Slovenia. I found a wonderful, bright venue full with energy overlooking the river. There was an immediate bonding with the landlord as I explained him my vision of serving the community with this club that will be free of charge. He understood my vision and rented the place for a very low price.
All I had to do now was to inform the public about the club. So I informed my friends, acquaintances, co-workers etc. I informed the press, participated in a radio show, and also informed Laughter Yoga trainers around Slovenia. I have to admit, I expected a huge support, but to my disappointment only 13 people showed up at the opening. I was nervous but then remembered that while running a Laughter Club, it does not matter how many people come initially. Once the good word spreads, people start pouring in. I then pushed all my feelings aside and turned a new page. I told everyone that I will be at the club and anyone who is willing is welcome to come. With this attitude, things started to change. People started to come. At first, they came and left, but then more and more people joined in. The media soon followed and the club was featured in local newspapers and journals.
Some people, who joined the club, were aware of the Laughter Yoga vision from the very beginning and those are the people who helped me with my club. They take photos, recorded the sessions and come up with new ideas. They also helped me with donations and new offers.
I then realized that when I changed my attitude; things started to change. Now, there are more than 20 members and when they start experiencing the benefits of Laughter Yoga, they bring others with them. Our laughter family is growing slowly and some of the members tell me that they can hardly wait for the weekly session which "fills their batteries" for the entire week. Some members do cell phone exercises when they are out of town. They already have buddies and they tell their family members and friends about Laughter Yoga; they laugh under the shower, mothers with babies engage fathers to baby sit…The laughter virus is spreading.
I also started a Laughter Yoga group in the old-age home Danica Vugrinec where we meet once a month. As working with seniors is specific I invited other Laughter Yoga trainers to join and see how it is to work with impaired people, people with dementia, people who are hardly mobile, who have no teeth or are partially deaf. I think it is easier to learn in practice. These sessions are also for free.
My life has started to change. Many people still don't understand and will never understand why I work for free, but I don't try to explain anymore. All I know is: the more I give the more I get back. I am gaining new experiences, new friendships, new business opportunities, new laughter friends all around the world; we communicate via Facebook. My view on life has changed, laughter is my life.
Click here to download the flyer of first international festival for laughing for no reason is all for free in Slovenia.