Laughter Yoga In Ireland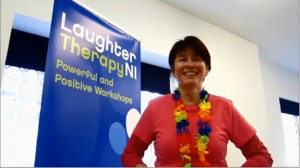 A new Laughter Yoga has started in Belfast encouraging residents to shed their stresses and strains by laughing. It is the first regular club in the city and the organizer Pauline Dunlop feels it will help improve the mood and the wellbeing of the people.
Miss Dunlop, recently gave up a job in a bank to start running such classes on a full-time basis, says that laughter is the helping, healing tool. When you laugh – just imagine – you increase your heart rate and release feel-good endorphins… It is undoubtedly the best medicine.
There are no jokes in her class and there is no talking involved. It's about bringing people together and connecting. The session starts with gentle clapping and chanting oh ho ho ho, ha ha ha, which is followed by different laughter exercises like Greeting Laughter, Handshake Laughter, and Milkshake Laughter etc. It ends with a period of meditation.
Laughter Yoga has already proven to be an ideal exercise routine for complete body-mind wellness. When done on a regular basis, it provides enormous health benefits that help people have a better attitude towards life.
Article courtesy: http://www.newsletter.co.uk/news/no-joke-at-health-club-where-laughing-is-mandatory-1-6558146