Laughter Yoga In Hong Kong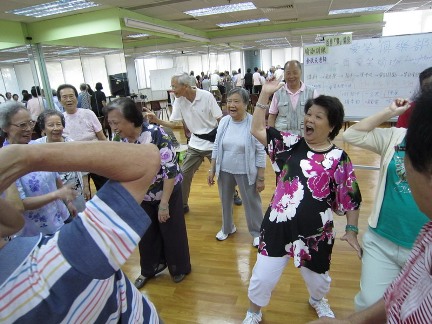 Laughter Yoga leaders and teachers worldwide are doing a great job in setting up new clubs and running different training programs and activities to help people bring more laughter and joy in their lives. They are involved in organizing laughter sessions for different groups like the elderly, business people, patients & hospital staff, companies, school children etc. Here is a report by Dick Yu about how Laughter Yoga has spread in Hong Kong and how Laughter Yoga clubs are helping people in different areas.
I first learned Laughter Yoga from John Chen of Taiwan in 2007, and then from Dr. Kataria in 2008. Now, I am running some laughter clubs in Hong Kong which are involved in several activities to help spread the word of laughter.
In the past year, I have run many 'Once a week' clubs in elderly centers and elderly homes, but now I hope to make them capable enough to continue to run on their own. So I am trying to teach some of their members or staff to lead a basic Laughter Club. I am also trying to look for volunteers from the public Laughter Clubs who will accompany us to visit people who are unable to attend the Laughter Yoga sessions because of some constraint like being physically disabled, or are too old and weak and recovering from some ailment. We would like to share and bring some joy to them.
Some of the more interesting groups I am recently working on are:
1. An NGO organization for patients recovering from psychiatric diseases; the group
includes patients, family members, staffs of NGO, some staff from hospital of related
field
2. An Elderly Home - it is a 10 session program, once a week. They are aiming to run their own laughing group later, and to promote Laughter Yoga in some of their associate elderly homes.
3. As a participant in an elderly centre of a program of 'Oasis for family' I ran a training program for their volunteers who now run a Laughter Club and a laughing program for the community.
Report from Dick Yu, Hong Kong - healthylaughters@gmail.com