Laughter Yoga In Education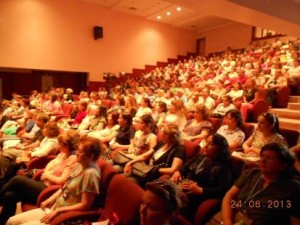 A Laughter Yoga Teacher Leadership Seminar" with 400 people from the education ministry in Ankara, Turkey, was recently held under laughter teacher Eser Mutlu. It has been proven that Laughter Yoga is very beneficial in the field of education as it not only helps students to get over their stressors, but also helps those associated with the planning and execution of education methods.
Introducing Laughter Yoga in the education curriculum is a great boon as it an exercise that teaches youngsters to become adept at handling pressure by building their self confidence and boosting self esteem which helps them to perform better in every sphere of life. Schools are discovering that children who participate in daily Laughter Yoga exercises are able to focus more in the classroom and are more willing to communicate and cooperate with others. They become more creative and are more motivated to learn.
Regular laughter sessions help children to develop the habit of laughter at an early age and develop a more positive outlook on life. It improves their emotional quotient and promotes better relationships with their peers in school and throughout life. It also provides tools to deal with stressful situations in new ways, providing an alternative to anger and aggression and resulting fear. In fact, in the educational context Laughter Boosting is used to prepare students for examinations, and also to prepare sports teams for optimal performance before competition.
Those working in the educational system are in need of laughter more than ever as they are faced with a lot of stress. Laughter sessions will help them find creative solutions to apparently impossible problems. Teachers and staff members who laugh together find that their teacher-student communication improves; they have more energy and inspiration in the classroom, and are less prone to feelings of burnout.
https://www.facebook.com/media/set/?set=a.564790680231595.1073741845.266659416711391&type=1