Laughter Yoga Helps Veterans Heal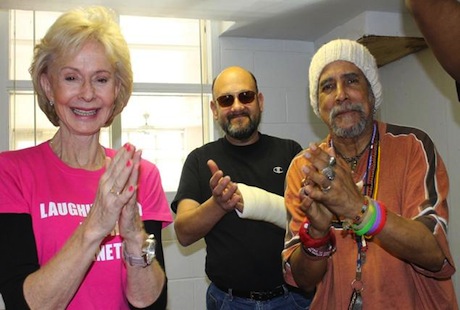 When Volunteers of America-Greater New York (VOA-GNY) was looking for something different to add to their roster of programs for veterans, Laughter Yoga topped the list.
With more than 600 units of transitional and supportive housing, VOA-GNY is the largest provider of residential services for veterans in NYC. The first Laughter Yoga class began in September at VOA's veteran's residence in Manhattan, a facility that houses 174 vets, mostly men.
Jeannette Watson Sanger, the Laughter Yoga facilitator and volunteer has a genuine interest in working with veterans. Yoga and laughter may not be the first thing that comes to mind when thinking of services for veterans, but Sanger says they are one of the most engaged groups she has ever worked with. "In classes we make a commitment to joy. The idea is to fake it till you make it!. It is very healthy — laughing engages 85% of your lungs," she says.
Sanger, whose brother-in-law was killed in the Vietnam War, feels strongly that giving Laughter Yoga class is a special way to volunteer and help. These veterans have been through lots of stress, and most time when they return from serving, they don't get a lot of support from the community. "They aren't being cared for," Sanger says. "I have seen that even a half-hour yoga session is enough to alleviate some of their anxiety and trauma."
For full report please click here.
Photo Courtesy: Holly Reich