Laughter Yoga Helped Me Cope With Multiple Sclerosis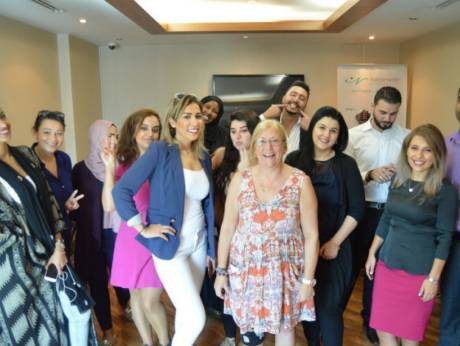 This is an inspiring story of how a British expat in Abu Dhabi overcame multiple sclerosis through Laughter Yoga.
Kathryn Armstrong, Abu Dhabi: For 29 years I was an adviser for the Department of Working Pensions in the UK, dealing with work training and social issues of families. When I arrived in Abu Dhabi, almost a decade ago, I was looking for something new but as luck would have it I was diagnosed with multiple sclerosis (MS) and had to undergo neurophysiotherapy. It was not easy being in a new country and having to face these issues, and that's when the idea of Laughter Yoga occurred to me and I thought of trying it out.
During my frequent trips to the UK, I attended many Laughter Yoga courses which were extremely therapeutic. Highly motivated, I did my laughter leader and teacher training and became a professional. I now conduct Laughter Yoga classes for individual groups as well as companies and make them aware of the enormous benefits of laughter and how it brought about a positive change in my own condition.
As a side effect of MS, I even developed optic neuritis (inflammation that damages the optic nerve) and spasticity (a condition in which certain muscles are continuously contracted) in my right thigh. But this did not stop me from conducting my laughter classes. I realized that regular practice of Laugher Yoga helped me tide over these medical conditions with a positive mental attitude. It not only changed my outlook towards life, but also gave me the energy and inspiration to help others.
Source: http://gulfnews.com/xpress/life-style/laughter-yoga-is-for-everyone-1.2075172