Laughter Yoga For Cancer Survivors in India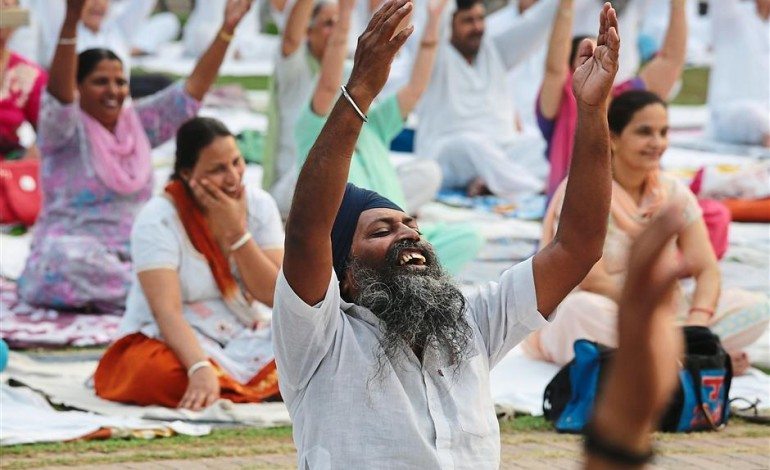 Cancer today is a major killer and has become a life issue which affects everyone. It is not easy for cancer patients or survivors to find humor and laughter in the face of such a serious matter. But it has been proven that laughter can be therapeutic as it helps to lift the spirits, relieves physical and emotional stress and makes one feel more positive.
Laughter Yoga instructor and cancer survivor Sukhveer Kaur recently conducted a laughter session at the Empowering Cancer Survivors Forum held at Universiti Malaya (UM), Kuala Lumpur, which was attended by more than 500 cancer survivors and caregivers. According to her when you laugh, no other thought comes to mind. Laughing helps to ease the trauma of the dreaded disease and provides the much needed exercise, which is useful for survivors trying to get back to health and live a better life.
According to a study almost a third of patients die and another 48% fall into financial catastrophe in Malaysia after a year of being diagnosed. Things like inpatient or outpatient care, medicines, medical supply, transportation to hospital and accommodation for the caregiver are all very expensive.
This is Laughter Yoga really helps. It is an ideal exercise routine that is the easiest, safest and involves no costs. Anyone can laugh and reap the several health benefits. Scientific studies have proved that laughter has a powerful and immediate strengthening effect on the immune system. It quickly increases immunoglobulin levels that help fight infection and increases the number of Natural Killer Cells (NK cells) in the blood, which plays a key role in cancer prevention. Hearty laughter quickly counters depression and negative outlook making it easier for patients to retain full control of their mental abilities and keep their spirits high.
Article Courtesy: http://www.star2.com/people/2016/07/31/using-laughter-to-empower-cancer-survivors/
Photo Courtesy: REVATHI MURUGAPPAN