Laughter Yoga Brings People Together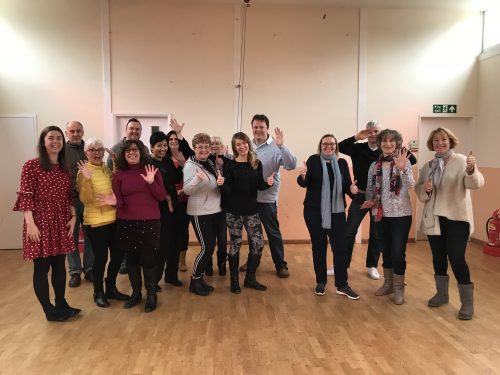 A wave of Laughter Yoga workshops are now taking place all over the United Kingdom, including in Huddersfield. Originating from India, this unique concept of laughing without any reason is helping to bring more laughter and joy into the lives of people. As laughter is a universal language that knows no barriers, it brings people together and creates a sharing and caring community.
Examiner journalist Chloe Glover joined in the Sunshine and Laughter Yoga at Huddersfield Mission, while yoga leader and teacher Nancy Nudds conducted the laughter session which encourages people to let go of their inhibitions and enjoy the simple but vital pleasure of laughing. "Laughing gives us more energy, makes us feel empowered and improves our mental and physical well-being, she said."
The participants stood in a circle and did the 4 steps of Laughter Yoga – clapping and chanting, playfulness, yogic breathing and laughter. They also did simple stretches, belly laughter and some very innovative laughter exercises which left everyone in splits!
Initially, Chloe thought it was certainly bizarre, but on hearing and seeing everyone else laugh he too found it hard to stop. Far from feeling like he was being ridiculed, he felt totally at ease, so much so, that when a fellow participant commented he looked 10 years younger, he realized how stressed he must have looked when he first walked into the room. In fact, after the session, everyone there looked much more at ease than they first did.
Laughter Yoga session is a really safe environment so people are really able to let go and everyone reports feeling liberated at the end of it. People have life changing experiences and they feel better about themselves. They become aware of what laughter can do and how it can help to cope with the ups and downs of life.
Article courtesy: http://www.examiner.co.uk/news/west-yorkshire-news/chloe-glover-go-bizarre-practise-11177887