Laughter Yoga At UCSF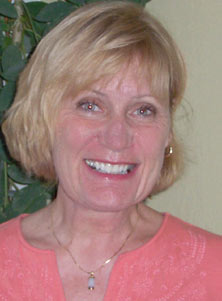 The UCSF's Osher Center for Integrative Medicine recently introduced Laughter Yoga to boost laughter among patients who really don't have a lot to laugh about. The whole idea behind Laughter Yoga is that we laugh for no reason, said Teresa Corrigan, the instructor for the class and a nurse at the Center. We just laugh for the sheer joy of laughing.
Not only does laughter boost the serotonin, dopamine and endorphin levels; it is a great workout for the immune, lymph, and cardiovascular systems said Corrigan. It also could be a big adjunct to healing for many people, she added. The combination of laughter with controlled exhalation can be a lifesaver for lot of patients.
As a weekly attendee of Corrigan's classes as well as a Laughter Yoga instructor, Dee Butterfield extols the virtues of the practice. It helps tighten my stomach muscles and to improve my breathing, says Butterfield, And I feel much more relaxed after every class.
While the therapeutic benefits are many, the best thing about laughter is its universal spirit of joy. When we just look at each other and we laugh, there are no boundaries, Corrigan said. The sheer joy of laughing allows us to tap into our inner spirit of joy.
This laughter class will involve deep breathing, stretching, clapping and laughter exercises to help increase blood flow and oxygen to all the major organs, it will help enhance endorphin levels to uplift one's mood state & reduce pain, stimulate immune, digestive & cardiac systems, reduce stress levels, relax the muscles and help create a laughing community and be a lot of fun!
Time: 2 Wednesdays per month, 5:30 – 6:30 pm
Location: 1545 Divisadero St., 5th Floor (Map & Directions)
Fee: Free
Instructor: Teresa Corrigan RN, MA, CLL
Register/Info:
Drop-in; no registration necessary.
Please wear comfortable clothing.
For info, call 415-353-7718 FREE or e-mail.
2013 Dates
January: 16 & 30February: 13 & 27March: 13 & 27April: 10 & 24May: 8 & 22June: 5 & 19July: 10 & 24August: 7 & 21September: 11 & 25October: 9 & 23November: 6 & 20December: 4 & 18
Article source:
http://www.ucsf.edu/news/2013/04/104621/laughter-best-medicine