Laughter Yoga at the Living Well Center in Geneva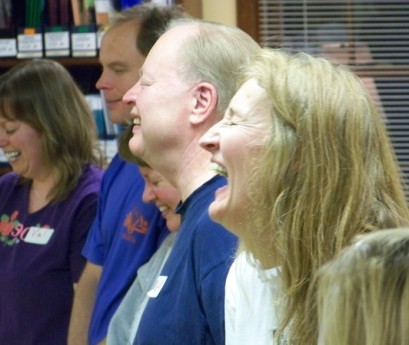 Kimberly Kozar reports from the "Geneva Patch" that Laughing is a rare form of stress release that is seriously funny in Geneva, Illinois. Dr. Terry Reasoner, Laughter Yoga Teacher, brought Laughter Yoga to the Living Well Center in Geneva.
The article quoted Reasoner.... "Laughter is the shortest distance between two people—and it's contagious."
There are many benefits to Laughter Yoga including Stress Reduction, Increased Joy, Connection through Community, Improved Fitness Levels, Improved Wellness and many more.
To read the Complete Article- Click Here
Laugh! This Rare Form of Stress Release is Seriously Funny in Geneva
A large crowd turns out at the Living Well Center on Jan. 12 to laugh, for no particular reason at all.
By Kimberly Kozar
There are a lot of great benefits to laughter, but it's just not always easy to find reasons to laugh.
Well, we don't need a reason, says Terri Reasoner, Ph.D. and certified laughter yoga teacher, as she explains the ground rules for today's exercise. She is not going to tell any jokes, she says, nor is she tonight's entertainment.
Before long, I find an irresistible desire to break out in hearty laughter myself.
To stay up to date with Laughter Yoga International, go to www.facebook.com/laughteryoga and become a fan by pressing "LIKE."