Laughter Yoga Among School Girls in India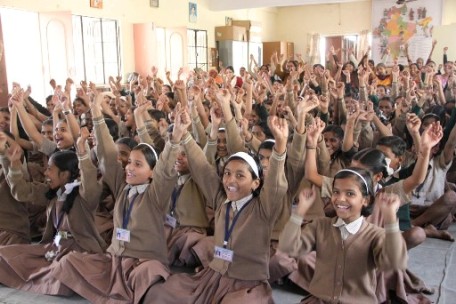 Jagat Bisht, Indore: Last week, we had the most satisfying and fulfilling experience in our journey of Laughter Yoga. We gave a presentation on Laughter Yoga before 100 girl students in the age group of 9 to15 years and their teachers at Sri Sarada Rama Krishna Misson School,Indore.. The connect was instant and the atmosphere turned ethereal within a few moments.
Earlier, the Principal of the school had shared with us that the students were finding it difficult to concentrate on their studies and appeared sad, tired and depleted of energy. She felt sad that the children were not cheerful at all and faced a lot of stress. When we told her about the benefits of Laughter Yoga, she readily agreed to give it a try in the school.
The Principal and the Teachers were amazed by the simplicity, instant impact and tremendous transformative power of Laughter Yoga. They observed that the children listened to the directions given to them with rapt attention and showed a great sense of discipline during the exercise routine. The children enjoyed the session to the hilt especially Milk Shake Laughter, Mobile Laughter, Silent Laughter and Follow The Leader game.
The Principal said she really did not have enough words to thank us for making the children so joyous and exuberant. She would like her teachers to be trained as Laughter Leaders by us soon so that the children could have their daily dose of laughter medicine. We are feeling really content on being a medium for bringing joy in the lives of little school girls.