Laughter Yoga Allays Fear Of Public Speaking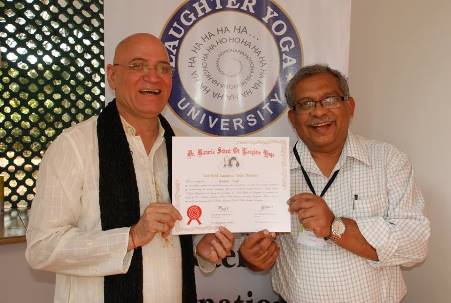 achan Singh - CLYT, Malaysia: I was the past president of the UTM Toastmasters Club and currently the president of Toastmasters BM. I have noticed that generally people fear public speaking. I had discussions with new members and they too mentioned that they 'tremble' when delivering their speeches. Sometimes, I too experience this 'fear' especially when I am asked to speak or to be the Master of Ceremony (MC) in the presence of some VIP guests. Though I have a basic knowledge of pranayama, Zen Buddhism, Kundalini Yoga, palmistry and mind control etc., it never really helped me entirely.
It was only when I discovered Laughter Yoga; I realized it was a great way to overcome this fear of public speaking. Normally, presenters inhale and hold the breath and exhale and hold the breadth, which does relieve the tension, but only to a certain extent. I also did many trials of various methods, after which I finally found the' secret' to get through the problem of nervousness. It is through Laughter Yoga - a combination of laughter and breathing done silently.
In my case, I do the Ho ho ha ha, Kapalbhati breathing and Silent Milkshake Laughter. You must point to your solar plexus and laugh, point to the heart and laugh and lastly point to the center of the head to the place where you are 'looking out at' and laugh. You will feel a sense of calm and ease which will help you release all fear and anxiety and you will become a more confident speaker