Laughter Yoga Adopts Another Filipino School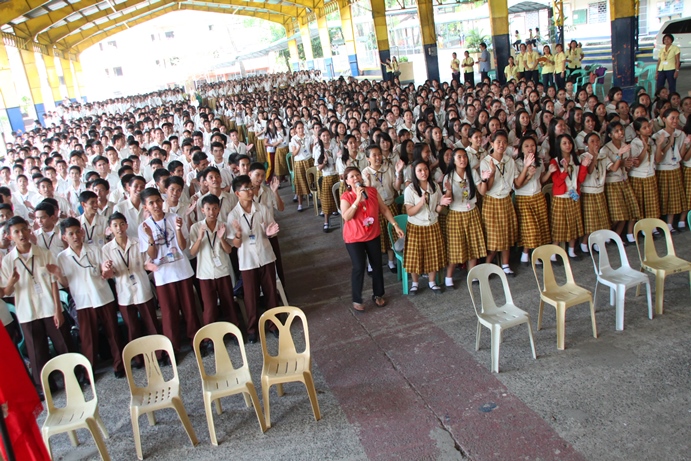 Report By Elvie Punzalan-Estavillo
True to its tradition, on its 7th anniversary Laughter Yoga Club, Phils, turned over to the Camarin High School in Caloocan City -- the 6th school it has adopted to install a complete water system and 28 toilets for the benefit of 7,800 students and 200 teachers and administration employees.
From my experiences, in addition to toilets, clean running water system to run in the faucets and maintain cleanliness in their respective schools is equally urgently needed. The schools we have adopted did not have water supply system! It is deeply disturbing and heart-rending to learn that the ratio of toilets in our public school is 2,000 – 3,000 students to one toilet -- with no water to boot! To date, this yearly undertaking has benefited 35,500 students covering various schools in Quezon and Caloocan City.
The good news is that we now have an operational water reservoir in our school that will supply water for a week even in cases of brownouts. We express our deepest gratitude and appreciation for this project that will benefit the teachers, students and everyone in this school.
I advised as I challenged the 1,500 students congregated, to properly use and maintain these facilities use to enable future students to enjoy them. I conducted a mini-yet-so-enjoyable Laughter Yoga session for them, did the Laughter Yoga clapping, which boosts the flow of energy to the body fast that they can do when feeling down, tired, sleepy, angry, hungry and "low-battery". The students and teachers loved the "hoho-haha-ing," the rhythmic movement of the diaphragm that improves the mood, changes the mindset to positive mode, and enhances the overall well-being of a person.
Following are some comments from the Camarin principal, teachers and students:
Principal Juanito Victoria : A very good form to relax the body and rejuvenate the spirit. Good job!
Tommy Rico: Though the Laughter Yoga was short, the experience made me feel whole again
Jonalie Jimenez: Very refreshing, releases stress. I will do laughter therapy as part of my daily routine.
Jasha Sophia Sebastian: Very entertaining and funny. Stress releasing really.
Hershey Jane Selorio: Very energetic, like wake up call.
For more info, visit www.laughteryogaphils.com. To laugh, visit lycphohohahaha.