Laughter Therapy Can Help Mesothelioma Patients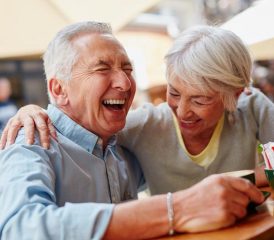 It has been scientifically proven that laughter effectively helps in reducing pain in those suffering from terminal illnesses like cancer and improves the mood state, thereby generating a positive attitude and the ability to cope with distress and trauma of the disease.
A study conducted by Professor Rod A. Martin of University of Western Ontario showed that laughter increased the pain threshold or tolerance. In fact, today many hospitals and cancer centers incorporate laughter as a complementary treatment to traditional therapies such as surgery, radiation and chemotherapy.
Laughter is not the cure for cancer, but provides a full range of positive emotions, including hope, love, faith, strong will to live, determination and purpose, which play a very significant and role in recovery. The Mind-Body Medicine Program at the Cancer Treatment Centers of America offers patients laughter therapy, which help patients deal with their illness and the side effects of standard cancer treatments.
A good laugh brings a sense of closeness and lifts one's spirits, making it possible for everyone to forget about cancer for a while. Caregivers, family members and friends should also laugh along with the patients to reduce their stress.
There is nothing better than a good laugh to calm our senses and bring our mind and body into balance, both in good times and bad. It helps us cope with difficult times, connects us with others, enriches our relationships and improves well-being.
Source: http://www.asbestos.com/blog/2016/07/15/laughter-best-medicine-cancer-pain-management/
Photo Courtesy: Lorraine Kember