Laughter In Yoga Class For Good Health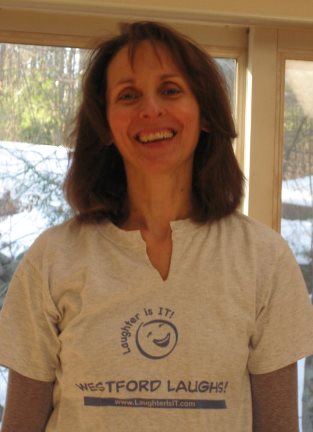 Cindy Brown, a psychotherapist and yoga instructor, brought Laughter Yoga to Westford, MA, about 2 1/2 years ago and has been holding free classes ever since. Brown first learned about Laughter Yoga while taking a course in advanced yoga training. A few years later, she began training with Laughter Yoga leader Sebastian Gendry, head of the Laughter Yoga movement in the United States. "What I didn't know was that it would really change me," Brown says. "I remember driving away from my training classes and telling my husband, 'I never want to go another day without laughing ever again."
Brown's laughter session begins with what seems a little awkward and forced, but quickly adjusts into a contagious wave of real laughter. Club members find themselves unable to even look at each other without giggling. Aside from what may seem a little odd to an outsider looking in, it is actually quite healing to the body and mind. Laughter, and all of its benefits, is paired with the cardiovascular exercise of various breathing techniques. The first 30 minutes of the class consists of laughter exercises which improves mental functioning, promotes cardiovascular health, and reduces anxiety, stress, depression and loneliness.
"It's a really powerful practice, in that; it is a body-mind practice. What your body does, your brain follows, so if your body is doing happy, your brain will start registering happy," Brown says.
Some comments from the participants:
Marybeth Bush, Tyngsboro: In general, I feel a lot happier now that I started coming. I can't imagine not laughing now. It really gives you a different way of thinking.
Kathleen Feeney, Chelmsford: This class just makes you really happy. We meet every Tuesday and I swear, I'm still laughing by Thursday.
Maddy Bernard, Westford: I thought it was a little strange at first, but if you don't mind making a fool out of yourself, it's fun, and definitely contagious.
Laurianne Posch, Westford: It was a little strange at first, but I came again so I guess it wasn't too strange for me.
Article source: http://www.lowellsun.com/ci_23658379/relax-breathe-go-ha-ha#