Laughter Clubs Gaining Popularity In Israel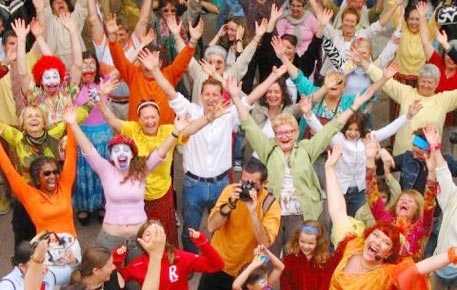 Tova Butnaru, CLYT: At the rate at which Laughter Yoga is spreading in Israel, soon the people will be laughing their way through all tensions and difficulties. At present, the Israeli Laughter Yoga community generally spends a weekend together laughing, dancing, and singing. Recently, Dr. Ute Liment a medical doctor and a certified Laughter Yoga teacher, who started the Laughter Movement in Israel and conducts these meetings regularly, raised the idea that on each day during the month of July and August, they would hold a Laughter Yoga session on the beach, open to the public. The idea is to bring awareness of Laughter Yoga and its benefits to the general public.
In the beginning, it was difficult to get both LY leaders and people to join the circle, but gradually many facilitators and people joined in and the sessions became very successful. Members thoroughly enjoyed the group laughter and went back feeling relaxed and energized.
These sessions which started on July 21, 2013 will continue till August 15, 2013 and will be held at different beaches and parks.