Laguna Wood Seniors Laugh Away Their Troubles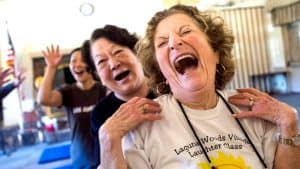 Seniors participating in a laughter class, conducted by Cheryl Russell, in Laguna Woods, Orange County, California, laugh like children, while doing Laughter Yoga. Russell uses laughter as a form of exercise to benefit health and quality of life for seniors. For some, the class is their lifeline. Adorned with happy faces, they do all the laughter and breathing exercises, which keeps them energised and reduces their stress.
The class has a variety of silly, fun activities together with pure laughter. There are seniors of varying ages, health conditions and backgrounds. Every age group has its issues and seniors have stressors such as living alone, losing a mate, friends leaving, financial concerns — these are all real issues that they face. Laughter has a way of softening those concerns and fears. It gives them the much needed feeling of closeness and fraternity as it generates a feelings of belonging.
Laughter Yoga is an ideal solution for seniors as it provides the scientifically proven benefits of laughter to improve their health and well-being. It has the ability to move them from debilitating fear and anxiety to a more positive state of mind, transforming their quality of life.
Here are some comments from the participants:
Linda Duncan, 76: I thought everybody was a little nuts at first. I wasn't used to a bunch of grown-ups just doing exercises and laughing like crazy, but it was so much fun that it just grabbed me. I have experienced the health benefits of Laughter Yoga and have gained a more positive attitude by coming to the class every week. It is the best happy hour in town.
David Schneider: I was looser than I've ever been in my life. There were times I couldn't stop myself from laughing, like really laughing. The class helps me to forget about any negativity happening in the world right now. With all of the sadness and traumatic things that happen in life that impress us so much, sometimes we forget how to laugh. You need to remind yourself, and I guess this is a good reminder.
Barbara Balowitz, 77: It just starts the whole week of making it good. I love to laugh and I speak to everybody. I love to give my energy to other people and if I make them happy, I'm happy.
One of the members, who has Alzheimer's, feels the class has really benefitted her. In fact, even Russell used Laughter Yoga as a tool to communicate with her mother in the hospital. "I walked in (her hospital room) and I went 'ho-ho ha-ha-ha' and her hands started doing it," she said. "And I knew that she was OK."
Laughter is the universal language of peace and harmony, kindness and compassion and has the power to provide a positive mental attitude, which helps one to deal with life in a much better way.
Article Courtesy:
https://www.ocregister.com/2018/01/22/laugh-ambassadors-of-laguna-woods-say-laughter-yoga-class-helps-them-forget-their-troubles/