Korean Sub-station Staff Laugh Away Their Stress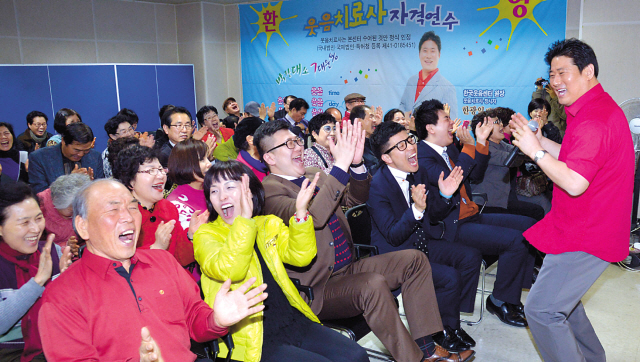 Read this interesting report from Korea Herald that sketches the journey of Laughter Yoga in Korea where this wonderful exercise routine is spreading fast into different walks of life and people have been reporting how great they feel after attending a laughter session.
Recently, Lee Myung-hwan and employee of Yeonsinnae Subway Station in northern Seoul conducted a laughter session for about 80 participants. He has been leading the weekly laughter workshop at the station since April 2009. Reaching its 200th session three weeks ago, the event has become the trademark of the subway station, which some call the "Laugher Stop."
"Laughter is contagious," Lee said. It can be triggered physically through singing, dancing and playing together. "It's like a knee-jerk reaction. When you repeat a set of practices you can laugh without thinking. It looks easy, but you need to practice, then it will help you lead a healthier and happier life," he said.
"I don't remember when I laughed so much like this and I feel really good," said Choi Ok-soon, 84, who participated in the session for the first time.
Noh Kyung-soon, 77, said she travels an hour to attend Lee's workshop every week. "I'm always alone at home, so hardly laugh at home. So I come here to laugh and blow away my stress," she added.
People attend a laughter therapy workshop at the Korea Laughter Center in central Seoul on Tuesday. ( Image Courtesy - Kim Myung-sub/The Korea Herald)
Laugher therapy was introduced to Korea in the early 2000s by Han Kwang-il, one of the pioneers of the movement. He set up the association in 2001 and has since been hosting a laughter workshop at the Korea Laughter Center. There are about 150 laughter therapy clubs in Korea according to Han. Around 30,000 people have participated in his class so far, and 1,000 of them currently work as certified laughter therapists.
There is an increasing demand for laughter therapy workshops from many places, such as companies, institutions, hospitals and even army camps, he said. There is no nationally authorized certification or standard qualification to become a laughter therapist. But there are now many places here, including the Korea Laughter Center, where people can take up training sessions to receive some form of certification.
"I didn't expect much from it, but it's really more fun than I thought," Her Je-jeong, a 50-year-old office worker, said. "I'm now seriously thinking of it as my next career after retirement," she added.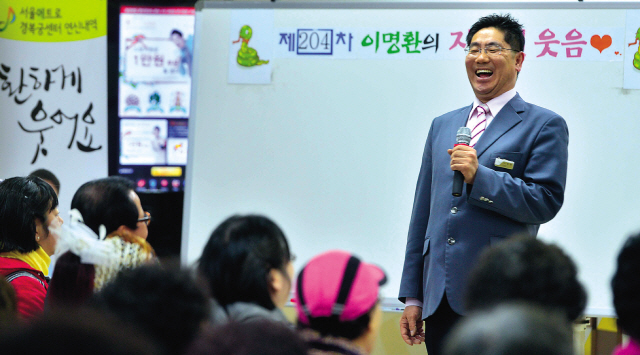 Yeonsinnae Station employee Lee Myung-hwan leads his weekly laughter class at the subway station on March 28. ( Image Courtesy - Kim Myung-sub/The Korea Herald)
Kim Joon-youg, 28, said he had recently quit his job as a computer programmer to be a laughter therapist. "From my previous work, I spent most of day with my computer. There was really no one to laugh together with," he said. "But when I first came here I had the best laugh I have ever had, since then I've been taking this laughter workshop as my new career," he added.
"It is amazing and truly moving to see people who suffer from cancer or depression having a joyful laugh. I always feel better after seeing them," said Lee. "And because of that I want to carry on this laughter therapy as long as I can."
For full article click here.