First College Based Laughter Yoga Leader Certification in USA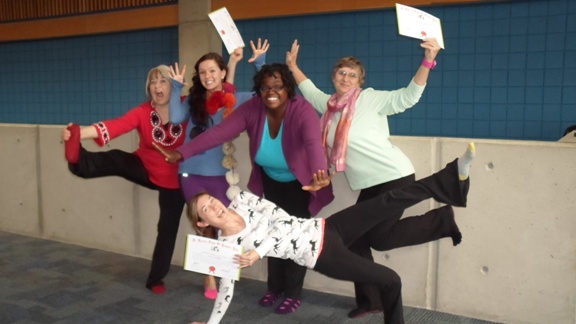 Karen Michelle Bayard CLYT USA: She has been teaching an Laughter Yoga introductory class (HLTH 1242) at Salt Lake Community College since January 2010. After a few years of petitioning, this fall saw the successful launch of the the Laughter Yoga Leader Certification (HLTH 1243/1244) course!
Utah is now the first state in the USA to offer a semester-long, college level Certified Laughter Yoga Leader course. This 4 month course at Salt Lake Community College led by Certified Laughter Yoga Teacher, Karen Michelle Bayard, meet weekly for 2 hours and 50 minutes.
The curriculum includes studying the LYL manual in depth, reviewing films and books related to laughter and joyful living and students filming videos of themselves explaining many of the 40 foundational LY exercises plus a few the students created themselves. Many of these videos have been uploaded to YouTube. As part of the colleges curriculum, every general education student must create an e-Portfolio. Ms. Bayard uses this exercise as an opportunity to give the students a chance at drafting what could be used as a website or blog for themselves in the future. Every student is required to lead at least 2 student practicums; a laughter yoga sessions lasting 30, 45 or 60 minutes. To promote their free class (practicum) the students create marketing material which can include flyers, a facebook event page and contacting local media. Four students were certified as laughter yoga leaders (Claire Nelson, Julie Pugmire, Alta Goodsell & Delan Jensen) at Salt Lake Community College this term!
For More Information or to reach Karen at WHOLE BODY LAUGHTER- Click Here.