FEI Laughter Club Is The Only Corporate One!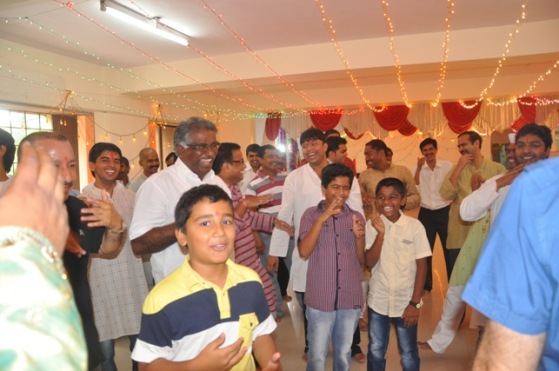 A report by Ramgopal Cancherla, India.
The FEI Group, started by Mr. Pratap Nair, is an international freight forwarding and logistics company headquartered at Mumbai, India, with over 21 offices across the country. It was in 2011 while on a business trip to Kolhapur, Mr. Nair and I participated in a Laughter Yoga session and he had the first feel and experience of a Laughter Club. He enjoyed it, understood the utility and wanted to extend the benefits to the FEI family. With his steady dedication and efforts, the FEI Laughter Club was inaugurated on 19th September 201. In fact, this club is now regarded as "the Only Corporate Laughter Club in India" according to Dr. Madan Kataria.
It is regularly conducted in their stilt parking area, where all available FEI employees, a combination of old stalwarts and the new youth, both men and women, participate in the Laughter Yoga sessions for15 to 20 minutes during lunch time. From the initial hesitations, all have come out of the shells and are laughing merrily & heartily without reserve.
These daily afternoon Laughter Yoga sessions has afforded the FEI Team, moving out from their seats and computers, flexing muscles, networking with colleagues from other departments and exhibiting creativity. This affords the new recruits an informal platform for induction.
With the patronage of Mr. Pratap Nair and his family, led by Sumit and Kush as anchors, with the willing participation of FEI team, they are into the second year of Laughter Yoga.
The FEI team needs to be commended and congratulated to take FEI Laughter Club to greater heights. Very good, Very good, Yeah!!