Dr. Kataria At TEDMED Mumbai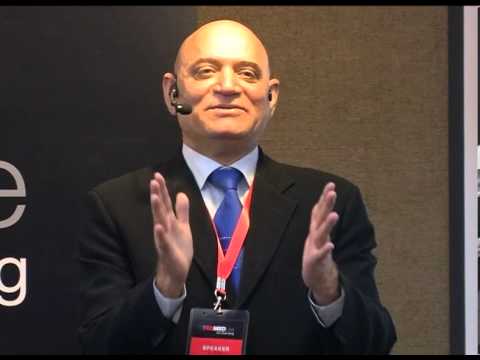 Dr. Madan Kataria, Founder of the Laughter Yoga movement gave a presentation and a live demonstration of what is Laughter Yoga and its benefits to a group of medical professionals at a TEDMED conference recently held in Mumbai. About 60 -70 people present for the session enjoyed the laughter exercises and felt relaxed and energized at the end of it.
Dr. Kataria began with explaining the importance of laughing and how it helps to maintain good health and develop a positive attitude. He laid emphasis on the fact that unconditional laughter coupled with deep breathing is the best way to bring more oxygen to the body and brain, which improves overall performance.
Today's challenges in health and medicine are extremely complex and not very well understood. TEDMED is a multi-disciplinary community of innovators and leaders who share a common determination to create a better future in health and medicine. It is an annual conference focusing on health and medicine.
Originally founded in 1998 by TED's founder Richard Saul Wurman and co-created & re-launched by entrepreneur Marc Hodosh in 2009, TEDMED's main task is to simplify the scientific medical knowledge and to bridge the gap between the wide public and medical science through a live communication progress
Most talks given at TEDMED combine the issues regarding health, information and technology with personal stories and future healthcare. Speakers bring together innovative, thoughtful ideas to solve big healthcare problems.
Maintaining TEDMED's core philosophy of promoting awareness in health care, Dr. Kataria explained the significance of laughing as a great alternative. Laughter Yoga is a powerful cardio workout; in fact 10 minutes of hearty laughter is equal to 30 minutes on a rowing machine. It decreases the negative effects of stress on the body which is the root cause of all illnesses. It also strengthens the immune system, lowers blood pressure, controls blood sugar and keeps your heart healthy. As it is based on the scientific fact that the body cannot tell the difference between fake and real laughter, it is the easiest exercise to learn and sustain and reap the several health benefits it offers.