Delhi Cops Use Laughter Yoga To Help Seniors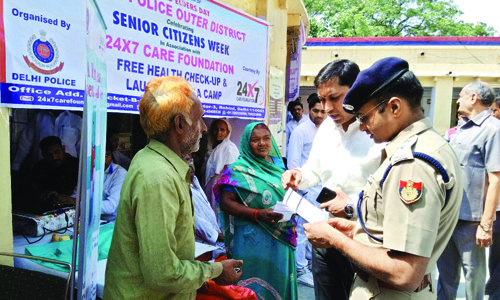 Delhi Police recently organised Laughter Yoga camps to bring more laughter into the lives of senior citizens. Lack of social contact, poor physical and mental health, family isolation and inability to use modern communication has led to a rapid rise of loneliness and depression among the elders today. They suffer a sense of social remoteness which leads to several debilitating disorders.
Laughter Yoga is an ideal exercise routine for seniors as it is a physically oriented process, which does not require any mental abilities, thus enabling the older people to comprehend humor without using their mental faculties. Laughter helps them to keep their spirits high and come out of depression. In addition it also provides the much-needed social support to sustain their physical, mental and emotional well-being.
The Deputy Commissioner of Police (Outer) Pankaj Singh said that these laughter sessions provided the much needed sense of belonging and was a great way to reduce the stress factors among the ageing participants. He said that Laughter Yoga is the medicine which can bring happiness in the life of elderly people. "Their safety is our priority and through these camps we wish every senior citizen a happy long and healthy life," he added.