Come Rain, Come Shine, Laughter Never Stops In India!!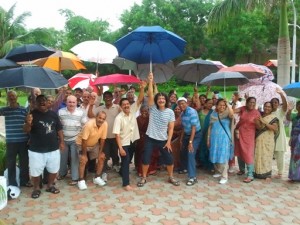 In India there are thousands of Laughter Clubs which meet 365 days, and there is no holiday for Laughter Yoga! In fact, members proudly report that they haven't missed a day in five years or more! Do you want to know why? It's because the benefits of Laughter will come to you only if you laugh every day. Doing laughter exercises on a regular basis keeps one happy, healthy and energized.
See members of Raheja Garden Laughter Club in Mumbai. Are you inspired? If yes, share your experience with us.
Ho ho ha ha ha
Dr K