Breaking News! Laughter Yoga Now In Canadian School Curriculum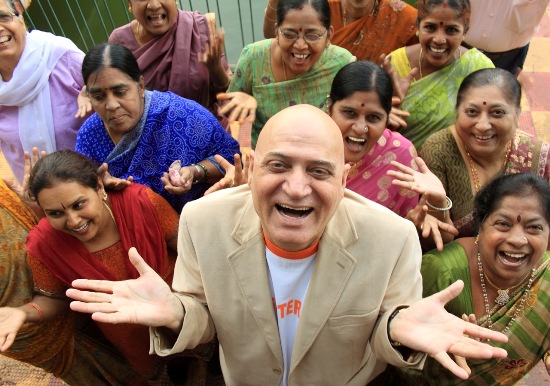 Who said children should not laugh in a classroom? In a ground breaking trend St-Michel Catholic School in Canada has made Laughter Yoga a part of their daily curriculum and now has their children laughing in the classrooms creating a 'merry riot'.
By taking this almost insane and revolutionary step, the school has refuted the age old approach of teachers that children should not laugh loudly in the class and must be kept in an atmosphere of contrived seriousness or they'll "walk all over you." On the contrary, St-Michel realized that by making every day a 'Smiling Day" has led to a bunch of happy kids and happy teachers.
It is an amazing treat to see how 10 minutes of laughter practice has been integrated into the everyday classroom - how a group of children laugh away all their dread, anxiety and stress related to school and classroom activities. Even the teachers leap up and down in concert with the kids cracking up together. The kids laugh, smile and clap to a seeming unending parade of loud, laughs in rapid succession. It is kind of like calisthenics with guffaws. They do classic Laughter Yoga, forced laughter games and many of their own invention.
Introducing this kind of craziness was no easy task. Suzanne LeFebvre-Martin who pioneered the laughter program at St-Michel said that though she was totally convinced that laughter exercises reduced anxiety in children, her idea of doing it daily in class wasn't exactly greeted with delight by the teaching staff. But with the support of her dynamic principal, everything changed. Laughter exercises were made mandatory and the principal personally saw to its implementation which led to extremely positive results.
Just a few weeks later the teachers began to notice a change. The kids were in better moods. They had more energy and better concentration. They seemed to have a zest you don't normally associate with the school classrooms. In fact, the school now hosts the first ever Kids' Laughing Championships to cap of an inaugural laughing term!
Article Source:http://www.huffingtonpost.ca/albert-nerenberg/laughter-classroom_b_4890900.html
This article once again reaffirms the efficacy of Laughter Yoga with school children. There is no doubt that laughter has proved to be very beneficial for school children. It has the ability to relax and help children get over stress and brings more laughter into their lives. It boosts learning skills and enthusiasm and provides much-needed exercise. It also enhances aptitude for different talents and enables them to deal with their problems in a better manner and become more considerate and understanding.
Suggested reading: