Laughing Through Challenging Times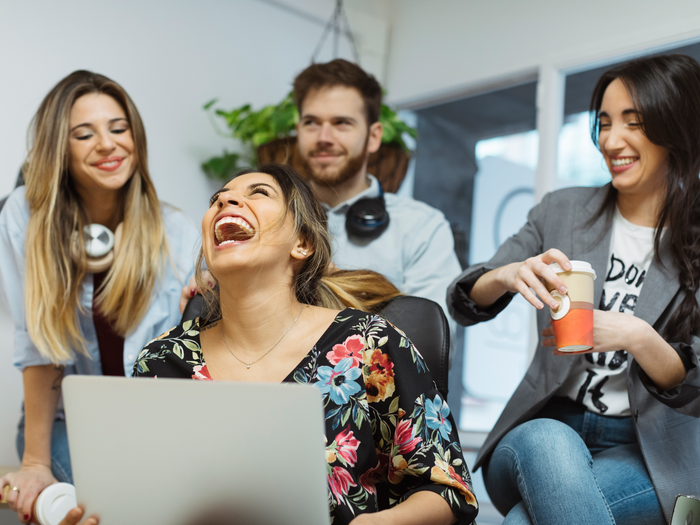 Laughter Yoga goes beyond just laughter. It not only fosters a feeling of physical well being, but also enhances the spirit and touches the emotional core of people. It develops an emotional balance which helps one to understand one's own emotions as well as those of others.
In times of difficulty, it is not easy to remain calm. By imbibing the inner spirit of Laughter Yoga and its characteristics, one can learn to handle any situation effectively without losing composure. It creates a new experience each time that enables one to handle similar situations in the future.
The following narratives reaffirm how Laughter Yoga helps people to maintain a positive attitude when faced with challenges.
Laughter Helped Me Grieve The Loss Of My Mother
Laura Gentry, USA: A few days after my mother's hip replacement surgery, she reported some unusual symptoms to my dad, who took her to the emergency room. There, they discovered she had a life-threatening aortic aneurysm and the decision was made to transport her by medflight to a nearby hospital for emergency heart surgery.
As we anxiously awaited the outcome of her operation, I called the organizer of an event for which I was to do a Laughter Yoga program the following day. I had made a commitment to open the conference for the postmasters of Iowa with rollicking laughter. Yet in this moment of crisis, laughter was the last thing on my mind. The organizer couldn't find a replacement speaker but offered to let me off the hook so I could stay at the hospital with my family.
Amazingly, my mom came through the surgery. Since the rest of the family could stay with her and she wouldn't be fully conscious that day, my sister urged me to go ahead and speak at the conference.
What an incredible day, it was! Being able to go and bring joy and laughter to a mob of postmasters was just the lift I needed in that difficult time. They were so grateful that my husband and I had come and many didn't even know that my mom was in the ICU hanging onto life by a thread.
After the conference, I returned to the hospital and spent quality time with my mom. She was fully aware and appreciative of our presence with her. Two days later—after we'd left for the night—she fell unconscious and was not able to be revived. It was Mother's Day weekend that my mother died.
In that moment, my life was irrevocably changed. The profound sadness of the loss was overwhelming. Grieving is so difficult because so many emotions flood you simultaneously. How could I face losing mom? I really didn't know.
The day after her funeral, however, I was at the Laughter Club. People thought it odd that I could laugh in the face of such despair, but I said, "How can I not laugh?" Laughter is so healing, so life-giving, that I felt I needed to practice Laughter Yoga all the more in the depths of my grief.
As the months went on, I added more laughter to my daily routine. I began spending a half hour each morning doing the yoga breathing and laughing exercises. It revitalized me again giving the strength to do the arduous work of grieving. In addition, the Laughter Yoga community supported me. I could feel the tangible power of their love as they continued to breathe and pray for me. I credit Laughter Yoga with giving me the ability to walk through this dark valley to the light and happiness on the other side.
Laughter Helped Me Cope With My Deafness
Lalla Laura Ribaldone: Since 2013 my life had almost collapsed due to my husband's illness and a subsequent divorce. I faced accusations of leaving him because of his sickness and many known people hurt my soul, which led me to self- destruction. I needed a caretaker in the house because I'm deaf and was living all by myself.
Having no parents anymore or close relations to rely upon, I cried every day and every night. I even contemplated taking up some job, but being deaf deterred me from doing so. I felt I was a burden to society and no longer wanted to live. Then in May 2016, I came across Laughter Yoga, which led me to joining a Laughter Club. Initially, I was not very convinced, but I continued to attend it. Gradually, I started feeling better and felt some small inner changes. I realized that I was not crying anymore; on the contrary, I found myself laughing, and this was my salvation!
Highly inspired, I decided to become a leader, not to do sessions or open clubs, but just to understand myself. The course helped me rediscover the emotions lost for years and I learnt to love myself. In short, Laughter Yoga has risen me a lot and has taught me to review my problems with another perspective – positively. Though I still have some discomfort in the evening when I come home and find no one to welcome me with open arms; I am beginning to deal with these situations in a much better manner.
I breathe and expiate with a beautiful laugh and I have to thank all my laughter teachers who have helped me to achieve this sate of happiness. Compared to some time ago, today I am a much better person, I live much better and now have many good friends. I feel in peace with myself and am happy to confess that Laughter Yoga has allowed me to face my fears, mostly related to my deafness. I am more self-confident and am ready to take on any of life's challenges with a smile.
**************