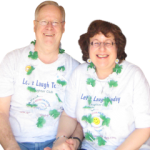 Bill and Linda Hamaker
2 Day Certified Leader Training
Date : Oct. 14, 2023 to Oct. 16, 2023
2 Day Certified Leader Training
This will be an on-line training over 3 days (Saturday to Monday) on Zoom. The hours will be 10am-noon and 2pm-5pm Saturday, 10am-noon and 1pm-5pm Sunday, 7pm-9pm Monday. Times can be adjusted if the group agrees. See our youtube channel for testimonials.
Trainings are led by Certified Laughter Yoga Master Trainers Bill and Linda Hamaker shown below with Dr. Madan Kataria. This will be their 37th training. They have trained over 250 laughers and run 2 different laughter clubs. Bill and Linda became Master Trainers in March 2019 after working with Dr. Kataria over a period of a couple of months. They have a world of information to share with you!
Bill and Linda also bring information to their training from their experience of a mindfulness, presence and movement retreat with Ekhart Tolle and Kim Eng.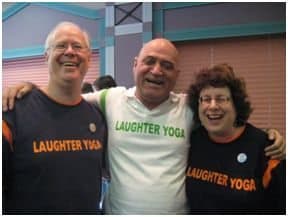 Linda and Bill are graduates of both The American School of Laughter Yoga (2009) and The Dr. Kataria School of Laughter Yoga (2010) and they keep up on the latest information with Dr. Kataria. They have also trained with Jeffrey Briar of the LY Institute, are certified in Laughter Wellness by Sebastien Gendry, have had advanced training with Dr. Kataria, and have taken on-line courses from Steve Wilson's World Laughter Tour. Therefore they have a wealth of information to share with you! Linda is also a Reiki Master and Bill is a Systems Analyst and they both bring their unique talents to this training.They are also both facilitators for the Global Play Brigade.
They have had their laughter club free on Zoom since mid-March 2020.There are always 16 to 25 laughers. Some of the same laughers return every single week. If you wish you will be able to gain experience by leading exercises during these sessions.
They founded the very successful Let's Laugh Today Laughter Club in Franklin, Massachusetts in September 2009, the Westwood Laughter Circle in 2010, Let's Laugh Today in Sharon and Let's Laugh Today in Walpole in 2012 and have been featured in many local newspapers, community television, and radio. They have been named Ambassadors to Laughter Yoga by Dr. Madan Kataria. They have been named Ambassadors to Laughter Yoga by Dr. Madan Kataria and are on the Laughter Yoga USA steering committee. They have presented at a number of Laughter Yoga conferences including most recently the Laughter Yoga Summit in 2016 and the First Annual Laughter Yoga USA Conference in 2017 at the request of Dr. Kataria. They have also facilitated many laughter workshops for private groups, health expos, wellness fairs, businesses and organizations.
After successful completion of this course you are qualified as a Certified Laughter Yoga Leader (CLYL), an internationally recognized qualification. This is a lifetime certification. You can lead Laughter Yoga sessions in YMCAs, yoga & fitness centers, schools, assisted living communities, senior centers, the workplace, and holistic centers just to name a few. You can also offer seminars for businesses and/or start your own laughter club. Linda and Bill will always continue to give you future support.
Linda and Bill will show you how to add more laughter to both your private and professional life! Their combined knowledge and experience gives you a FUNtastic week-end of learning, laughing, and inspiration.
Click here to watch a story about us on Chronicle Channel 5 ABC in New England.
Testimonial from Sebastien Gendry and Dr. Madan Kataria are to the left.
The course includes:
1. Learning the physical, mental & emotional benefits of laughter
2. How to laugh without humor and how to teach others to do so
3. The history of Laughter Yoga
4. Starting & running laughter clubs
5. How to market your services
6. Techniques for special groups (children, seniors and more)
7. Laughter Boosting techniques
8. How to laugh alone
9. and much, much more!
Who Needs It:
Anyone who wants to bring more laughter in their life and to share laughter with others will benefit from this training. It will be of special interest to:
1. Yoga and fitness teachers
2. HR and management training professionals
3. Health care professionals
4. Teachers and sports coaches
5. Psychologists and psychiatrists
6. Entertainment professionals
7. Senior care workers
8. Marriage and family therapists
9. Life coaches and alternative therapists
10. Sales managers
11. Tourism professionals & tour guides
12. Anyone who needs to add less stress and more laughter to their life!
Cost: $385 includes spiral-bound training manual and certificate mailed to you, folder of hand-outs from our years of experience, a USB drive with many resource files including the training manual and Dr. Kataria's e-book Laugh for No Reason, training manual also as an attachment, many informative e-mails and continued Laughter Yoga support from Bill and Linda. You will be getting two teachers for the price of one! $175 (for previously Certified Leaders who would like a refresher course.)
You will receive a Certificate from Dr. Kataria's Laughter Yoga University signed by him and Bill and Linda Hamaker. A graduation ceremony and a free 6-month membership to Prozone (professional section of LaughterYoga.org a $50 value) is also included.If you wish, you can lead any number of exercises on ZOOM at the Wacky Wednesday Let's Laugh Today Laughter Club or their Monday sessions.
Check out our website for more details: www.letslaughtoday.com/training.htm
Here are some testimonials: www.letslaughtoday.com/testimonials.htm