My Laughter Journey – A Life Changing Experience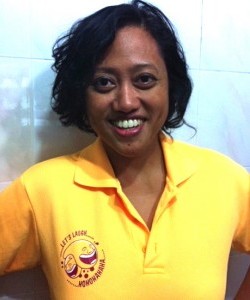 Feliz Angela Hassan, Singapore: I am very blessed because I am always cheerful, bubbly and happy. Self-employed, I am a full-time swimming instructor since the last 10 years, and am happily married to a wonderful, loving and understanding husband.
My life routine was teaching swimming, going to church and helping out as an usher in a church. In my free time I would go fishing with my husband as my home was just 5 minutes away from the Pasir Ris beach. In the year 2006, we moved to the city. All along while staying in Pasir Ris, I hardly saw old people in my area, as most of them were young couples. But, presently the estate that I live in has many senior citizens. Earlier, I was never interested in taking part in any community activities in Pasir Ris, but here I was approached by the chairman of the Residents' Committee to join them as a member. It took me three years to say yes to them and finally in 2009, I joined the committee, but with a condition that I would only be available on weekday's morning activities as on weekends I am busy with my swimming classes. Well, that's how I got involved in this community work.
While doing my RC rounds, I noticed that many senior citizens loved to sit around in the park, doing some light exercises in the morning, but often they were alone. Another thing which I observed was that they were never SMILING. There was hardly any laughter sound in the park, which was quite distressing.
There's a proverb saying:
"A merry heart doer good like a medicine, a broken spirit dries up the bones"
I knew all along laughter is a good medicine but I didn't know how to do it and that's where I recall my experience with a Laughter Club in East Coast led by an Indian lady. So I did a further research on the internet about Laughter Yoga and its benefits as laughter therapy. I gathered lots of information, watched some laughter videos and that's how my Laughter journey started.
I set up the HAHA HEHE Club-Henderson RC Singapore before I was Certified Laughter Yoga Leader, then in June 2010; I set up the other club called 'J' Beloved Laughers after becoming a certified leader. These two years of life have been an absolutely life changing experience for me. I never thought I would be doing this kind of volunteer work in my community area. Today, I am invited by schools & companies to share Laughter Yoga with them. I have been featured in newspapers and magazines and it's an honor to be a role model for the youth in Singapore.
Now after being A Certified Laughter Yoga Teacher, I'm definitely, pursue to spread laughter in every parts of Singapore. My vision is to help the community to set up as many Laughter Clubs in every part of Singapore.
Note: HAHA HEHE CLUB – Henderson RC, will be featured on TV, 28th Oct 2012 on Chinese Program Channel 8 at 10.30pm – Singapore Time.