I Learned to Extend Love and Peace with Laughter Yoga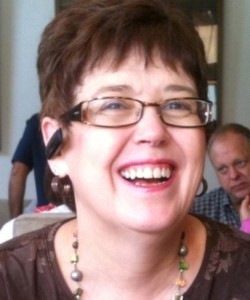 Elaine Nieberding, USA: My finding Laughter Yoga was quite unexpected — but it feels like "destiny"! As a holistic nurse, I'm knowledgeable about lots of different relaxation, stress release and energy medicine approaches to health and wellness. In the hospital oncology unit setting where I work, I frequently teach deep and focused breathing for pain relief, relaxation, emotional balancing, and easing into sleep. And I have been known to break into song, for patient upliftment, from time to time.
So imagine my delight when I came upon a You Tube video describing laughing with deep breathing – Laughter Yoga – for the health of it. This was earlier this year (2011). My inner instinct and core of spirit told me, this is it! — I realized that this was not only a new wellness method to share with patients, and the wider public, but it also gave one the opportunity to become a peacemaker in these hard times, which is so needed.
I watched more Laughter Yoga videos online and started visiting Laughter Yoga websites to explore how one could learn and use Laughter Yoga in different ways.Then a friend called, asking me to photograph a church in my Maryland town.
I went to snap some shots and the priest there invited me inside to take more photos if I desired. He then proceeded to tell me his vision of the most joyful congregation in town emerging at this church. I heard the word 'joy' and spontaneously found myself talking about Laughter Yoga and my decision to train as a leader and open a public Laughter Club.
Just minutes later, the priest said that they have enough space that might be perfect for this activity. And indeed it was! In succeeding months, I took Leader Training, utilized Laughter Yoga CDs and DVDs from Laughter Yoga professionals around the world and started making new friendships via Facebook, e-mail, and in-person Laughter Yoga sessions and classes.
I have renewed my identity as a peacemaker, and laughter is paving the way.
With my own self-care laughter practice, I feel grounded and more focused now and
I run a Laughter Club where we all enjoy together making positive social connections, quieting our minds, and touching our "Inner Spirit of Laughter." Businesses, community groups, health care settings — all are places where individual personal peace through laughter can deeply take root for life fulfillment, and the flowering of world peace.
There is a beautiful, unofficial "5th verse" to America's national anthem (Star-Spangled Banner).
In 1990, Stephen Longfellow Fiske penned the verse below for an April 22, 1990 Earth Day event at Fort McHenry in Baltimore, Maryland. (It was outside Fort McHenry during the War of 1812 that the Star Spangled Banner was written) My friend Ann Wolf performed this song at the Earth Day event, and I came to love it — because "I am a peacemaker."
I got an opportunity to share this song for Laughter Yoga Teachers in the training recently.
The words are stirring. Feel the meaning in your mind and heart as you read or even sing them. Laugh and extend peace.
"The Peacemakers Planetary Anthem" – Stephen Longfellow Fiske
Oh! say can you see by the one Light in all
A new world to embrace, at the call of all nations
Where our children can play, in a world without war
Where we stand hand in hand, in the grace of Creation
Where the rivers run clean, through the forests pristine
Where the cities stand tall, in the clear skies of Freedom
Oh! say does our heart swell with Love and Joy forever,
On the planet of our birth, blessed with Peace on Earth