Great Mood And More Energized With Laughter Yoga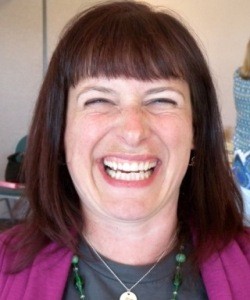 Cathy O'Donnell, USA: I have been working in the fitness industry for 20 years as an Aerobics Instructor, Personal Trainer and now as a National Fitness Presenter. I first heard about Laughter Yoga while watching an episode of the MTV reality show "Celebrity Fit Club". One of the celebrities was having a very hard time, she was really stressed out and her coaches suggested she take a Laughter Yoga class. I laughed just watching it! I have had some Yoga training, but have never wanted to teach it because I always giggle. I thought this would be an ideal fit for me.
I got busy and I forgot all about it. A few months later, I started having some minor health issues. I was tired, frustrated and oh, so crabby. As I was whining and complaining to a friend one day she said, "You need to do Laughter Yoga!" She suggested a Laughter Teacher in the area but my schedule conflicted with her classes, so I forgot about it again.
Shortly after that my friend, Lisa, called me all excited. She said that she and another friend, Karen, were looking into being trained as Laughter Yoga Leaders. "Not without me!" I said. We did some research and discovered that Sebastien Gendry was coming to Minnesota in January to lead a training less than 3 miles from my house.
That was the beginning of 2010. I started the St. Louis Park Laughter Club in Spring. I noticed a huge shift in my own mood and energy level. My Laughter Club members tell me that they sleep so much better and that the laughter helps to clear chest congestion. One lady shared with me that for the first time since losing both of her parents less than two months apart she woke up actually feeling good again.
Lisa and I have created Laughter Yoga MN, a network of laughter leaders in Minnesota communicating and supporting each other. It is also a place for people to find all of the available Laughter Clubs in Minnesota. We have a Facebook page, a brand new website and the soon-to-be MN School of Laughter Yoga. Come visit!
www.laughteryogamn.webs.com